On April 13th Linden Lab announced that last names have returned and you can now change your username in Second Life for a nominal fee. Some of you have reached out to us to ask us what you need to do once you have changed your username. This article will cover what you may wish to do, should you decide to change your username in Second Life.
I've changed my name. What do I need to do now?
Short answer
Your land will still be in your name. The tier box will operate as expected. Therefore, in short, you don't need to inform us if/when you change your name.
Longer answer
Because land ownership contains numerous interconnected services (land records, payment records, support site, etc) it may be advantageous to reach out to us informing us what your name was and what it was changed to. Again: this is not required. But it can help prevent issues in the future should you need assistance.
How are changes implemented?
Since your avatar UUID is unique to you and does not change when a username is changed, we go off this UUID to update our internal land records. This is done either when you start a new lease or when we initiate a manual update which reaches out to Linden Lab using this UUID to update your username. Please be aware, this does not change the tier box since that is through CasperLet. However, payments will continue to work as normal even if your displayed name is the old name in CasperLet since CasperLet compares UUID's and not your username for payments.
Are there any security implications?
At Dream Seeker Estates we take tenant security seriously. Therefore, if you reach out under a new name without alerting us that your name has been changed, we may inadvertently deny requests which require consent from the listed tenant. In cases like this, simply inform us your name was changed and we will initiate a manual update of our records to verify the new name.
I changed my name but did not inform you, how are late notices handled?
Since CasperLet and our reminder scripts run off of your avatar UUID, there will be no issues with the automated notices that get sent out. Additionally, our staff have been informed that when your old name cannot be found, they are to issue a manual refresh to check if your username has changed. We will then issue manual overdue notices to the new name as per our Late tier, extensions, and expectations article.
How do I change my name on the support site?
First, make sure you're logged in. Then on the front page click on your name and select "My Profile".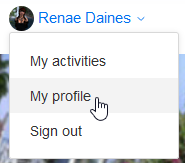 From this page select "Edit Profile"

On this page you can change your details to match your newly selected username in Second Life!
I have questions that weren't answered!
Feel free to reach out to us at any time. We're happy to answer any questions and provide insight to this new service offered by Linden Lab.