Do you allow Region Moves or Region Renames?
Yes. We allow for both.
Moving a Region
For most people moving a region means having it connected to another region. This is a relatively straightforward process. If you are having your region moved to connect to another Dream Seeker region then you simply need approval from all region tenants in all 8 squares (see example below) around your desired location as well as to pay your move fee. Once that is done contact us with the coordinates or the desired position and we'll instruct you from there.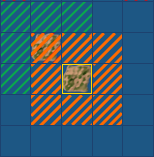 If you are moving a Dream Seeker region to connect to another estate you simply need to pay your fee and then ensure that all estate owners with regions in the 8 squares around your desired location have added the allowed neighbor of Lessor DreamSeeker. Once that is done contact us with the coordinates or the desired position and we'll instruct you from there. Please be aware that if the other estate(s) do not add Lessor DreamSeeker the move will be halted until the issues are resolved.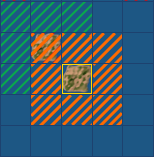 If you are looking to have another estate move their region to your region please contact us. There is still a fee (refundable, see below) involved. This is to ensure if you abandon your region that the cost to detach your region to restore it as a stand-alone region is already covered.
Renaming a Region
To rename a region please review the guidelines from Linden Lab and then contact us with the name you wish to have your region renamed to. Please be aware we reserve the right to deny any requested name for any reason.
Fees for Moves and Renames
The fees for Moves and Renames are not designed to be an income source. The costs associated pay for the staff time required to ensure your request is processed correctly and the fee imposed by Linden Lab. These are non-negotiable. Some estates charge twice our fee or flat-out refuse these services.
For Renames: L$16000 (Reduced pricing may be available but is not guaranteed. Please ask.)
For Moves: L$50000 per region. (No discount for cumulative moves. This fee is for each requested move.)
For other estates moving to you*: L$25000
* This fee is refundable under the following circumstances:
The region which connected to you has been verified removed
Your tier is not in arrears
You contact us once the above has taken place
In the event you have any questions about any of the above services please do not hesitate to contact us at any time.